Iditarod Unit
Pre-race ~
~created a wall map 4′X4′ of Alaska, with all the checkpoints mapped in.
~created a musher stat sheet for each of our mushers using this form.
Monday 3/5/2007
~Check musher standings and record on our musher stat sheets.
~Researched lots of sites about the Iditarod Race, including the official Iditarod site, and some facts and figures about the Iditarod (we printed these out and added them to our wall.
~Read about the History of Alaska
~Read a chapter in our book, The Mystery on Alaska's Iditarod Trail.
~Geography – learned about the Aurora Borealis and created watercolor paintings of our vision of the Aurora Borealis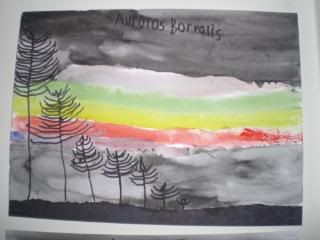 ~Watched the movie, "Balto."
Tuesday~ 3/6/2007
~took virtual sled ride
~learned about the serum run of 1925
~learned that the word Iditarod comes from the word, "haiditarod," which means: far distant place.
~learned about each of the checkpoints along the race
~created musher probability sheets for each of our family's musher choices.
—–a) first we found out how many mushers there are in the race
—–b) then we figured out how many were male and how many were female and made fractions out of our answer, then we changed the fraction into a percentage (GB hasn't done this, but it was easier for me to chart later on if it was in a percentage.)
—–c) we then did the same thing for veteran vs. rookies, and whether they were residents of Alaska, lower 48, or a foreign country.
—–d) then we made pie charts with our results
—–e) then we gave each of our mushers 1 point for each 10% of each catagory they were in. For example: Jeff King was male, and 85% of the mushers were male, so he got 8 points. He is an Alaskan resident, and 71% of the mushers are Alaskan residents, so he gets 7 points for that. He is also a veteran musher. 67% of the mushers were veterans, so he got 6 points for that. We add up his points and he got 21 points. We then compared that total with the totals of the rest of the mushers our family chose. Jeff King, Martin Buser, and Mike Williams all had the same probability of winning according to our catagories. Dallas Seavey came in next to last only because he is a rookie, and DeeDee Jonrowe came in last because she is a woman and only 15% of the mushers are women.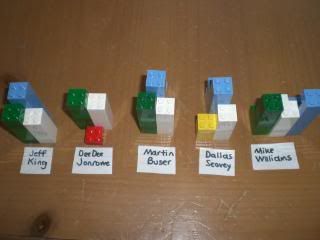 ~ We also started to create a coloring book about the animals from Alaska. We found the pages at Enchanted Learning
Wednesday ~ 3/7/2007
Today Jeff King is in 2nd place and Martin Buser is in 3rd place. Dallas Seavey is in 44th, and Mike Williams is in 43rd.
~We began the day with a computer snowball game to get us in the snowy mood.
~Then we checked the Iditablog to see conditions at the checkpoints.
~We spent a lot of time this morning learning about the dogs. We checked the AKC website to learn about Alaskan Malamutes, the most ideal dog suited to sledding sports. We learned about dog care on the race. The training of the dogs from pup to adult sled dog.
~And we were virtual mushers, making decisions at each point in a virtual race. GB liked doing this so much, he did it 4 times!
~We also made Iditarod Dog Chow.
~We also worked on a spelling/vocabulary matching game
Thursday 3/8/2007
~Today we learned how the musher prepares for the race, including the supplies needed, clothing, food, equipment, etc.
~We learned about the Inuit Art and created our own soap sculpture using a bar of ivory.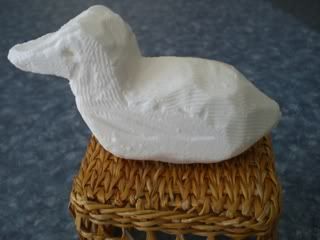 ~We did an experiment with "body fat" to show how it insulates animals and why the Eskimos and Alaskans find it so necessary.
~We also made chocolate tortilla snowflakes…. YUM!
Friday 3/9/2007
~Sent an email to Jeff King. GB's most interesting question was: "Since people have to worry about skin and eyes freezing during the race, how come the dogs eyes don't freeze?"
~We learned about the ceremonial start in Anchorage, the restart in Wasilla, musher's conduct while on the trail, dangers on the trail, and the red lantern award.
~We watched the movie "Iron Will." It wasn't about the Iditarod, but it was a race just like the Iditarod, so it was still a great learning movie.