Monday, February 2nd, 2009...10:12 AM
Mirror Maze
Jump to Comments
At our co-op we've been hot and heavy into World War II. The kids are really into it and have been learning a ton of material. It's all very academic and interesting. I'll post more about the WWII unit when we've finished it. It's going to be a multi-week theme.
We try to set the afternoon up into three segments, a learning segment, snack and then a thinking/craft activity that doesn't take too much time.
This past week we did the Mirror Maze from the Zoom web site. The kids were really good about taking their time and positioning the mirrors in just such a way as they would grab the light and reflect it onto another mirror. We tried to get at least three or four mirrors in action from each group of kids.
That night, when GB and I were goofing off, we tried the same activity at home. We were able to get the light to reflect off of eight mirrors. It's almost imposible to get a picture to show you our results, but this is what I can show you.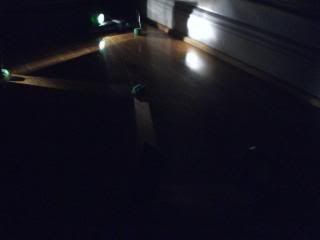 Aquagirl and Jabem, if you are reading this: What was the video game that we were addicted to that used this procedure as one of it's levels? I have totally forgotten. Was it Legend of Zelda?